I have a treat for you – this kawaii Baby Yoda plush sewing pattern is a freebie :D He's really big and cuddly measuring almost 12″ (30cm) tall. And super quick to sew up!
This pattern is GREAT starting place to use as a base to customize into other characters and animals. He already comes with elf ears, so you can easily make any elf, troll or goblin. Or change the ears to human ears or animal ears to make him into something else!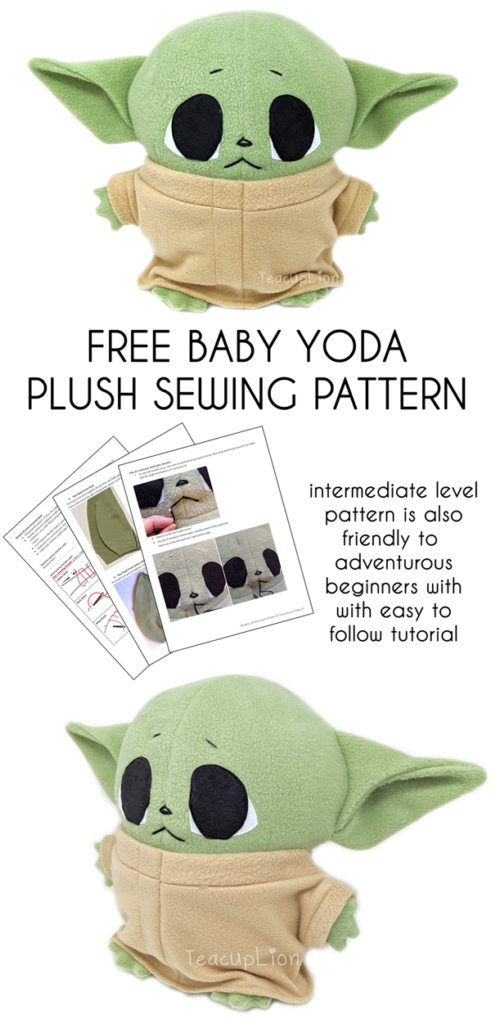 Yours will look just as cute as this one – the pattern comes with all the machine sewing applique and templates for the face (as well as hand sewing directions), as well as a detailed hand embroidery tutorial for the eyebrows, nose and mouth.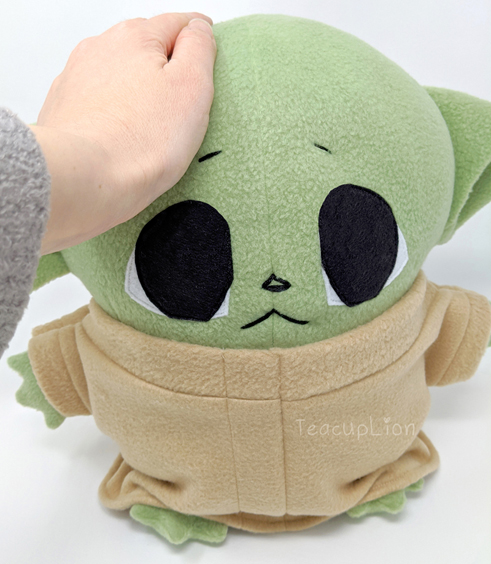 Please tell me if you like this pattern via social media! And when you're done making something with it, please tag me, I'd love to see! :)
Selling plush made from this pattern is permitted with credit to "Pattern by TeacupLion" on your marketing photos, online listing or the product tag.
Please include credit even if you modify the pattern. A link to my Etsy store www.etsy.com/shop/teacuplion is greatly appreciated in your online listing!
Thank you for helping support me so I can keep providing patterns :) Thank you!
☆*:;;;:**:;;;:*☆*:;;;:**:;;;:*☆*:;;;:**:;;;:*☆*:;;;:**:;;;:*☆
You may not sell this pattern or any modified versions of it.
NOT FOR MASS MANUFACTURING AT FACTORIES; to be used for home sewing only, sewn by the owner of the pattern.