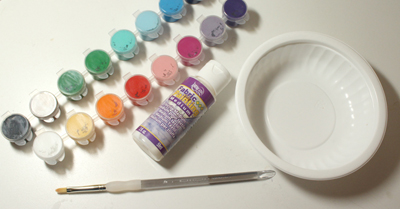 Materials needed:
Acrylic paint, textile medium, small brush, plastic palette, cup of water, chalk/pen
Step 1: Set up your surface with newspaper underneath, as paint can stain through fabric onto your table. Put your colors on your palette, and mix colors as necessary to achieve correct eye / eyebrow colors. Add a small bit of textile medium to each color.
Step 2: Use your pattern to transfer the eye alignment onto the fabric, and either use chalk, pen or paint to transfer the outline.
Step 3 (Optional): You can paint a full white circle fill in the entire area, if you let it dry first before applying more paint. (If you do not let it dry, any other colors you put on top will mix with the white.)
Step 4: Paint the eyebrows with color that matches the hair. (I'm using white hair so I put white eyebrows on the doll.)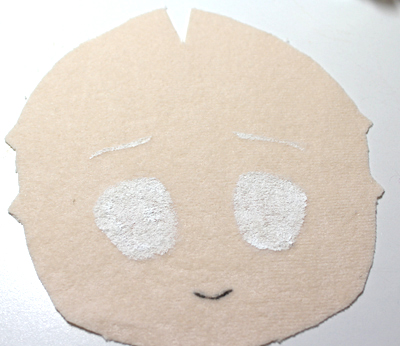 Step 4: Use iris colored paint to paint around colored part of the eye.
Step 5: Use a darker color (or black color) paint to fill in the pupil. Use black paint and paint the top eyelashes and eyeliner.
Step 6: Use black paint and small thin lines to paint eyelashes, and lower eyelid.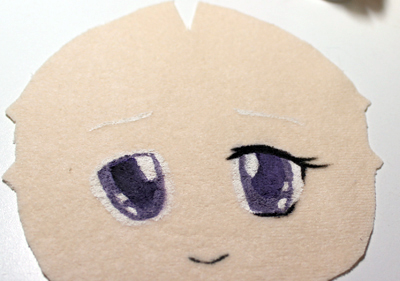 Step 7: When done painting, let your paint dry the full amount before continuing to sew your plush (mine took 24 hours). Your textile medium may call for you to heat-set the paint with an iron after the paint is dry. I usually skip this if I am not going to put any water on the plush.
This human plush pattern is available in my Etsy shop!