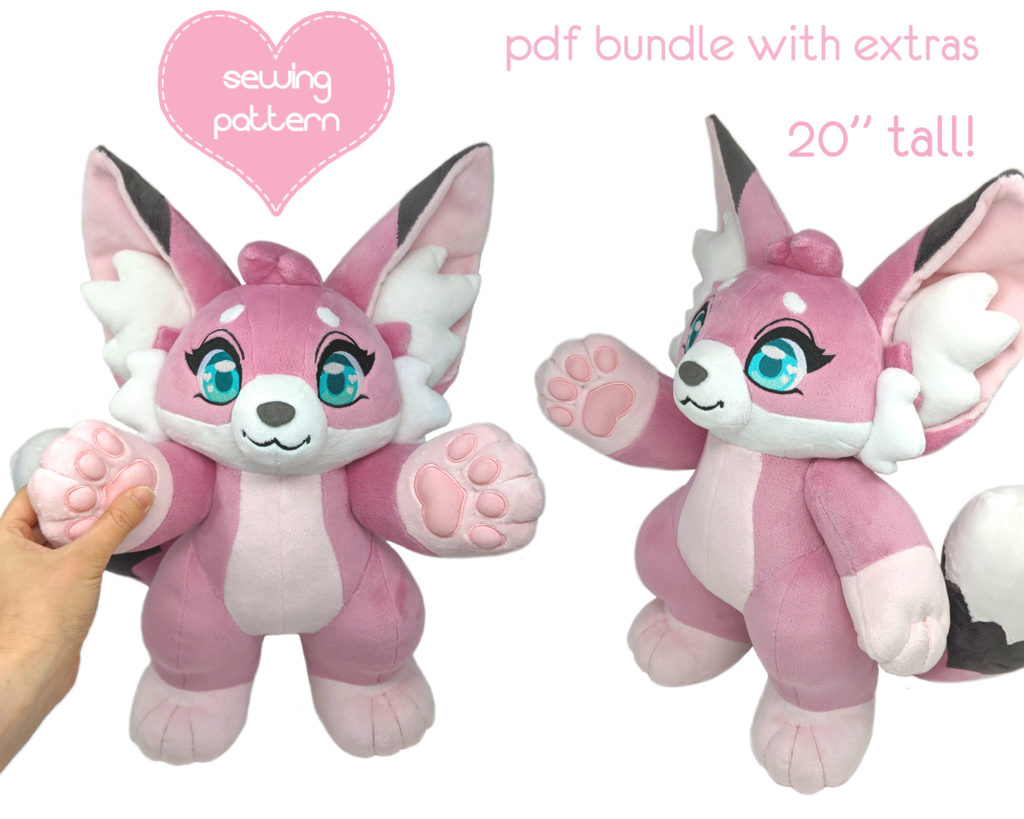 I'm so excited to announce this pattern – it's been a HUGE challenge to design, and I think it will be a great tool in plush artist's arsenal to make gorgeous anthro plush. It's a big bundle with extras to make 20″ tall cuddly furry plush with jointed arms. Even though it's advanced-level, the instructions are so detailed that adventurous intermediate sewers can follow along.
Check out the sewing pattern here!
The plush is HUGE so you can add lots of markings. Also durable for cuddles, with every base pattern piece (muzzle, head, legs) all machine sewn. Any extra pieces are sewn on strongly & include instructions. If you need to, you could sew the ears and tail in the head and back seams :) My Lynx is about 20″ tall with ears; it's really quite huge in person! Definitely feels like a little huggable fursuit with the size and shaping. Plush with smaller ears will be a tad shorter.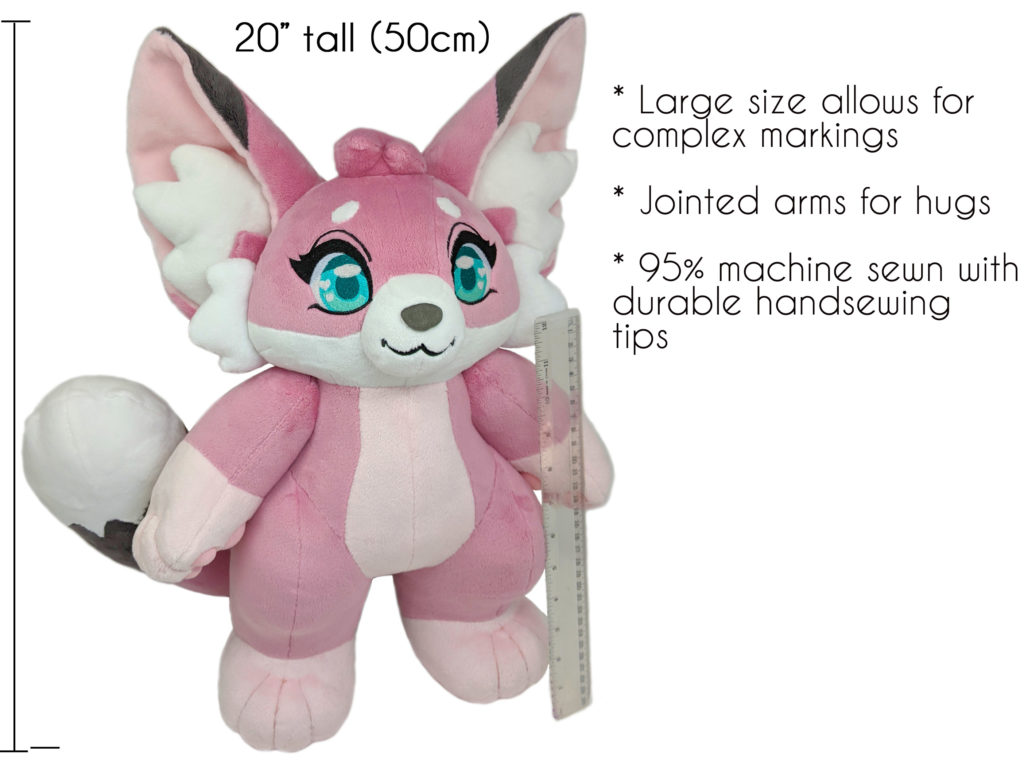 My favorite part is the paws – I love fursuits with big puffy pawpads, so I was able to capture it on a small scale and it's SUPER cute. There are instructions for flat fabric paw pads too if you prefer that. The instructions come with a method on how to make really strong thread-sculpted toes as well, along with markings.
The sewing pattern is perfect to use as a base to alter to make many different types of animals from. Use the Character Planner sheet to draw out your pattern addictions, pick your own colors & match them to Shannon minky swatches. The pattern includes TONS of extras – feline & canine shapes, and bunches of tails, ears, fluff and noses.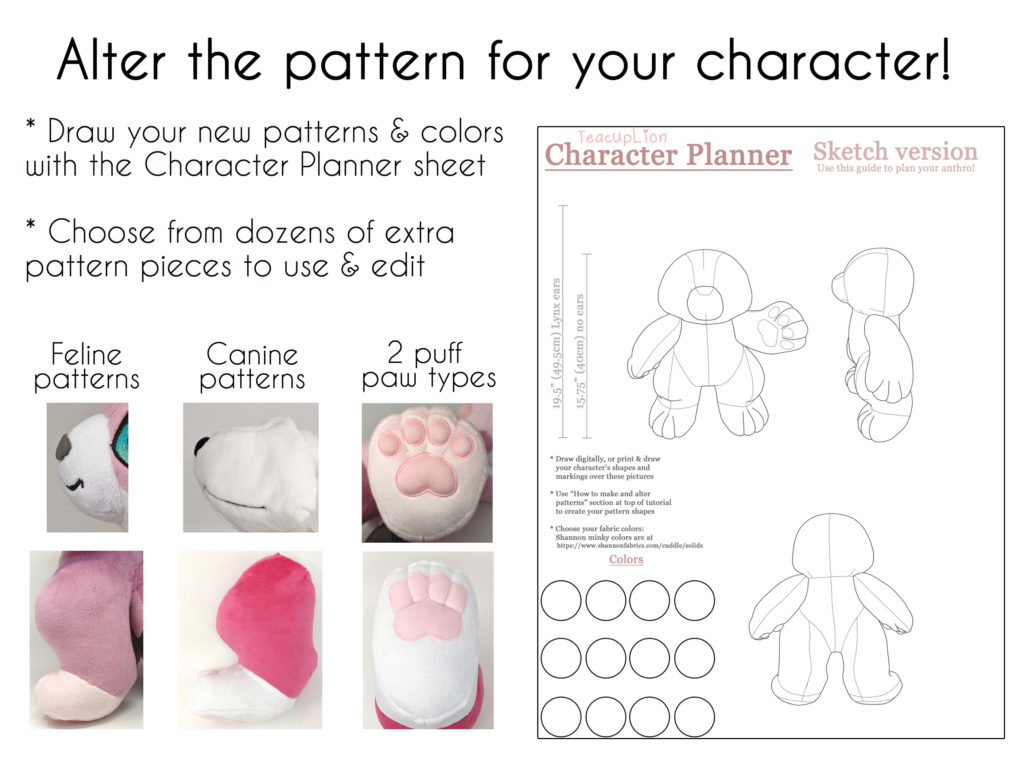 Aside from all the extra patterns in this bundle, I also teach some new techniques for making plush look super polished. The instructions have new tips I haven't shared in previous patterns, and focus on symmetry, sewing accuracy, and reducing wrinkles and loose areas. There's a new extra guide at the end for how to fix mistakes or symmetry issues on a finished plush to really make your work shine.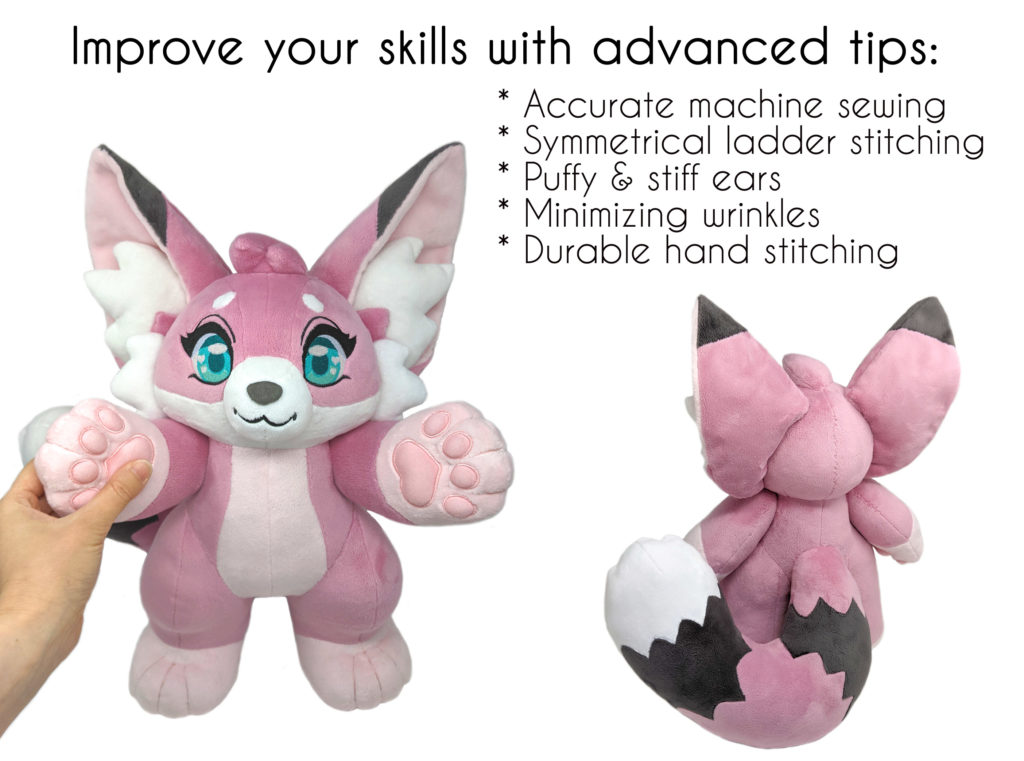 There are embroidery files as well – they're all 4×4 compatible, and have different options for the muzzle and paw pads.
Embroidery files are over here!
Thanks for checking out my design!
~Laura