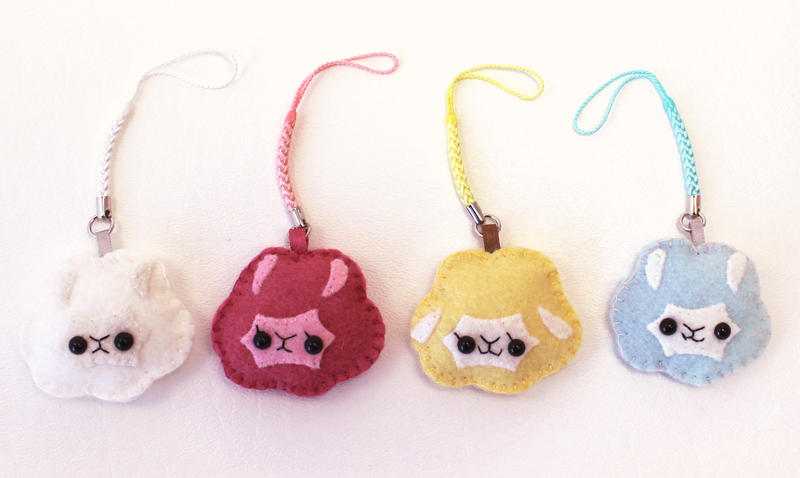 Hey all! I'm pleased to share this free easy plushie sewing pattern with you – it's great for beginners and sewers at all levels. In this sewing tutorial, I'll teach you how to make your own cute alpaca cream puff plushie.
These alpaca cream puffs are seriously addicting to make~ They're easy, fun, and a great use of leftover felt scraps :) Plus, they're travel-sized – I've kept been making these in my spare time at the coffee shop and on car rides. You can make each alpaca have a different facial expression. I hope you enjoy making them!
You are welcome to make as many as you like for gifts, charity, or sale – please just credit "Pattern by TeacupLion" on your online listing or product tag. A link to my site http://www.teacuplion.com is greatly appreciated. Thank you!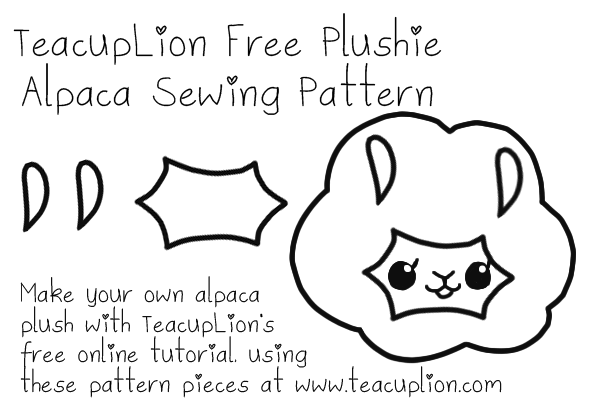 Finished size: 2″
Materials needed:
Felt (I use wool felt – it's soft and high quality)
Embroidery thread
Handsewing needle
Temporary marking pen/chalk
Small scissors
Small amount of polyester fiberfill stuffing
3-5mm plastic eyes or beads (optional)
Ribbon scrap (optional)
Step 1: Cutting the Pattern
This pattern's super small, so I recommend printing on scrap paper. Print the pattern and cut the pieces. Make sure to include the outline. Place your pattern pieces on the felt, and trace around the pieces with chalk or temporary pen. Cut the felt around the inside of the chalk/pen line. For the small face/ear pieces, you can tape the pattern directly to the felt and cut around, instead of tracing.
Step 2: Face Embroidery
Using a single embroidery thread strand, thread it through the eye of a needle.  Triple-knot the long end, and leave a short end 1-2" long. Make sure your knots are on the wrong side (underside)of the felt and embroider face details You can use the template on the layout as an example, or make your own expression. I used 4mm "wiggle eyes" and attached them with a small dab of superglue, but you can also use plastic eyes, beads, or embroider the eyes. When finished embroidering, hide your knot on the wrong side of felt. Make a loop with your thread, bring the needle through it, and then bring the needle through the newest loop. Continue this a few times to form a knot, then snip the extra thread.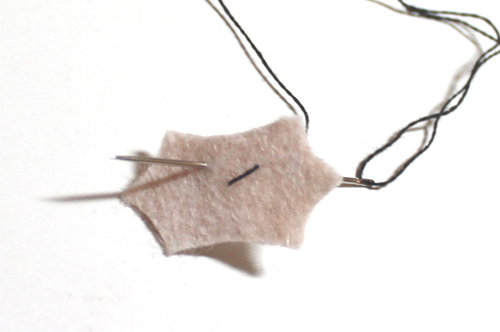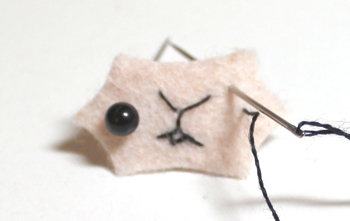 Step 3: Running Stitch
Place the head paper pattern over the head felt piece, and hold the ear felt piece in place. Slide away the paper pattern, holding the ear so that it stays in place.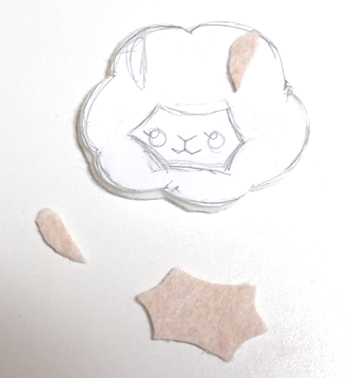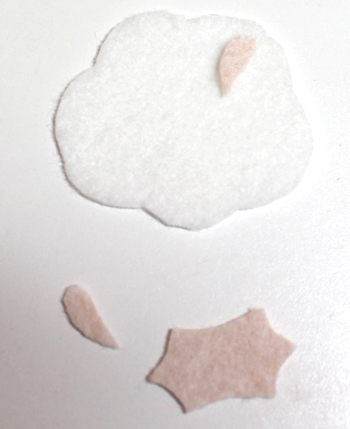 Use 1 strand of embroidery thread, triple-knot one end, and leave the other short and loose. Using small stitches, use a running-stitch to attach the ears to the front head piece.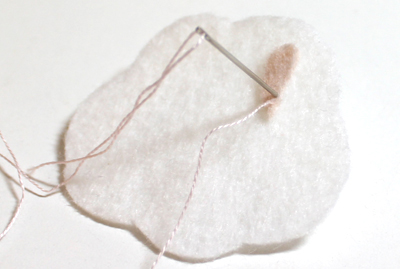 Step 4: Whip-Stitch
Use 1 strand of embroidery thread, triple-knot one end and leave the other short and loose. Using small stitches, whip-stitch the face piece to the front head piece.
Step 5: Blanket Stitch
Use 1 long (~20") strand of embroidery thread, triple-knot one end and leave the other short and loose. Starting at the bottom of the head, blanket-stitch around the outside edges of both head pieces, leaving the bottom open for stuffing. At the top middle, you can attach a looped ribbon scrap to attach a keychain or cellphone strap. Fold the ribbon in half, insert it in-between the front and back head pieces, and use small whip-stitches to attach the ribbon to the back of the head.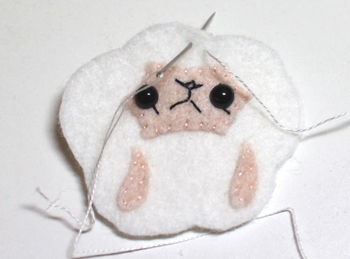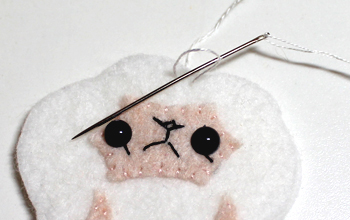 When finished, make a single whipstitch at the left side of the ribbon, and continue to blanket stitch around the entire head.
Step 6: Stuffing & Finishing
When you're about 2cm away from your starting blanket stitches, Insert stuffing in the gap, and finish blanket-stitching closed.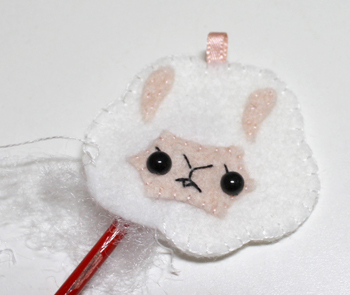 To knot your thread, insert the needle once more into a loop of your last blanket stitch, and then into the newest loop again. Repeat twice, and make a stitch inside the plush to hide the thread. Tighten, and snip the extra thread. Attach a keychain, ballchain, or cellphone strap to the ribbon loop.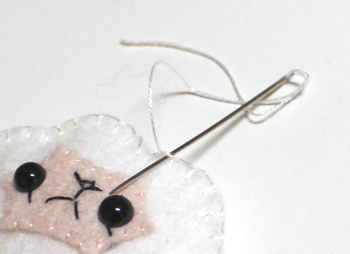 Voila! Now you can make an entire army if you like :)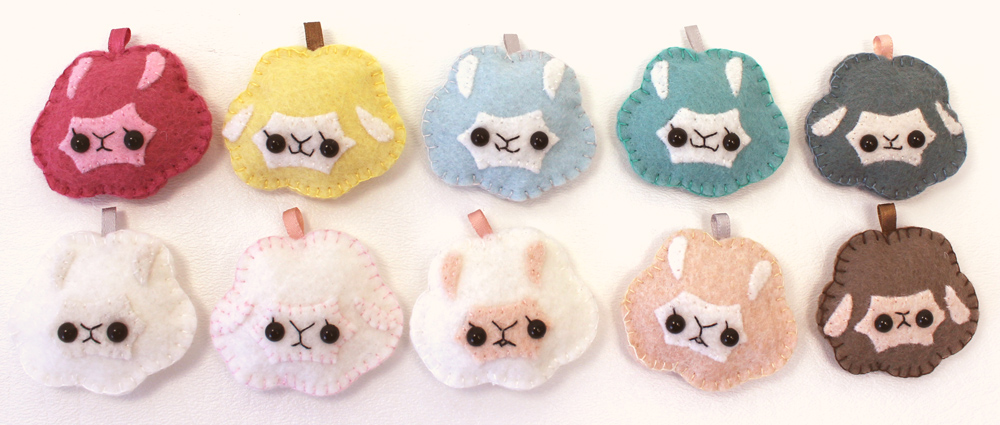 I hope you enjoyed my tutorial! All of my sewing patterns are written photo tutorial style with detailed, easy-to-follow instructions. If you liked this one, please check out my other sewing patterns in my Etsy shop!
http://www.etsy.com/shop/TeacupLion
These little alpacas are great practice for my Fennec Fox sewing patterns:
You will receive the patterns for both the boy and girl in this set. These foxies are a nice 6" size, and are also quick and easy to sew! This pattern will teach you 5 stitches, has detailed stitch diagrams, and has lots of my tips and tricks for a professional finish.
Thanks for reading, and do let me know if you have any questions! I'd love to see your finished alpaca plushies on my Facebook page :)