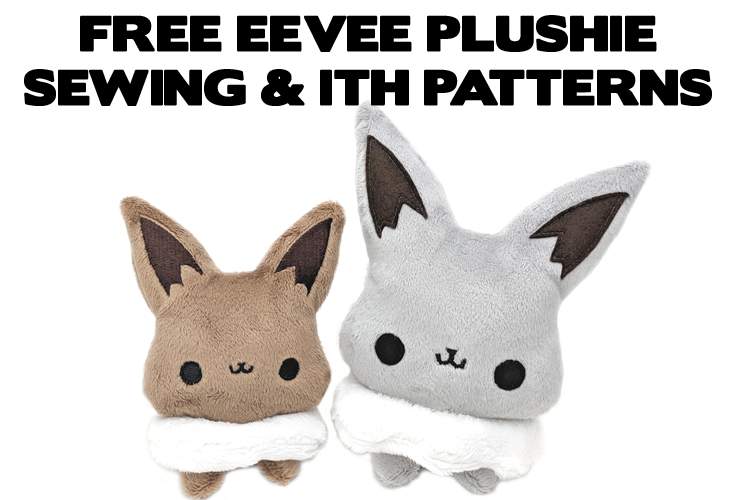 With Pokemon Let's Go Eevee coming out soon, I wanted to make a super kawaii Eevee free plush stuffed animal sewing pattern and ITH pattern for you guys! I'm so pleased with the result, these little guys are so cute. You can modify it to be a fox, or the other eeveelutions: Jolteon, Vaporeon, Flareon, Umbreon, Espeon, Glaceon, Leafeon or Sylveon.
They are precious handheld sizes, filled with beanie pellets and ready to be made and be your desktop buddies or gift. The sewing pattern version measures 8″ long. The ITH version stitches out in 4×4 for a 8″ long Eevee, and 5×7 for a 6″ long size. If you need a different format, please use conversion software.
Please tell me if you like this pattern via social media! And when you're done making something with it, please tag me, I'd love to see! :)
https://www.facebook.com/TeacupLionDesigns/
https://www.instagram.com/teacuplaura/
Click the images below to grab these patterns! (Please note that these links may not work with phones)
Sewing pattern version:
ITH machine embroidery pattern version: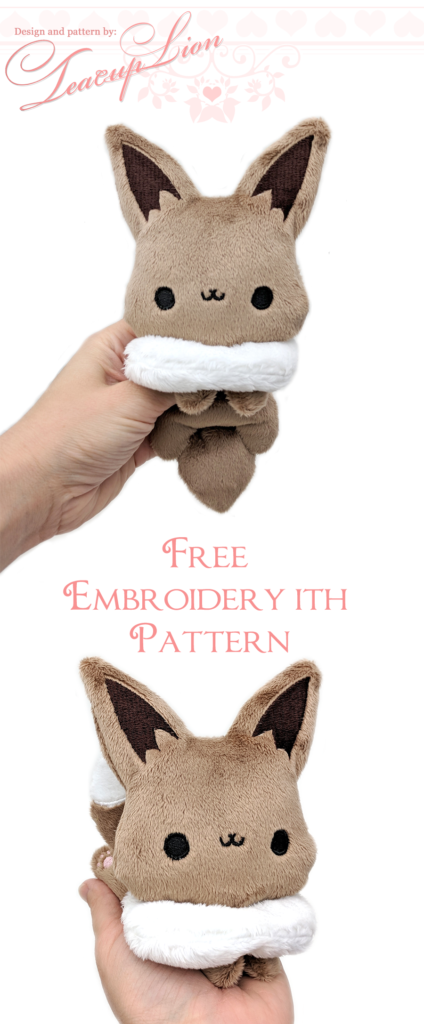 *~*~*~*~*~
These patterns are perfect for your handmade business/hobby to make plush to sell at shows, conventions, or online. Please give credit to "Pattern by TeacupLion" and link to my shop https://www.etsy.com/shop/teacuplion
This applies to whether you sell online or in person. If you modify the pattern, give credit with "Modified from a TeacupLion pattern" as my designs are Derivative Work.
You may not reproduce, share, freely distribute, or sell this pattern in digital or printed form. You may not sell modified versions of this pattern. This pattern is not for mass production, factory, or sewing class.
~*~*~*~*~*~
Sewing skill level: Advanced Beginner
Sewing pattern version special materials needed:
* Fleece or minky (So soft and cuddly, easy to work with, and many colors to choose from)
* Ballpoint machine sewing needle
* Felt
* Embroidery thread or a zig-zag stitch on sewing machine
See the rest of my plushie sewing patterns:
http://www.etsy.com/shop/TeacupLion