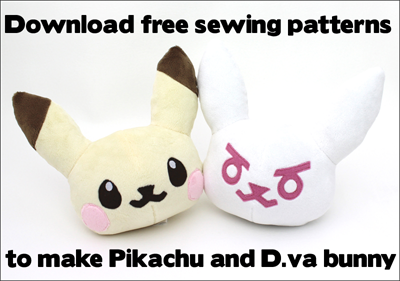 For free download are Pikachu plushie sewing pattern and D.va bunny Overwatch plushie sewing patterns! You can also use this sewing pattern to make bunny rabbit stuffed animals. I made these so they are very simple and fast to make, even for beginners :D I will teach you how to sew darts, how to ladder stitch, how to topstitch, and other basic stitches.
The sewing pattern comes with the face templates and alignment lines.
If you have an embroidery machine, you can use these embroidery files for your plushies!
I'd love to see what you make with this pattern ~
Share your finished plush with me on social media & your post can be featured!
Facebook TeacupLion Artists Group
Instagram  @teacuplaura
Twitter: @teacuplion